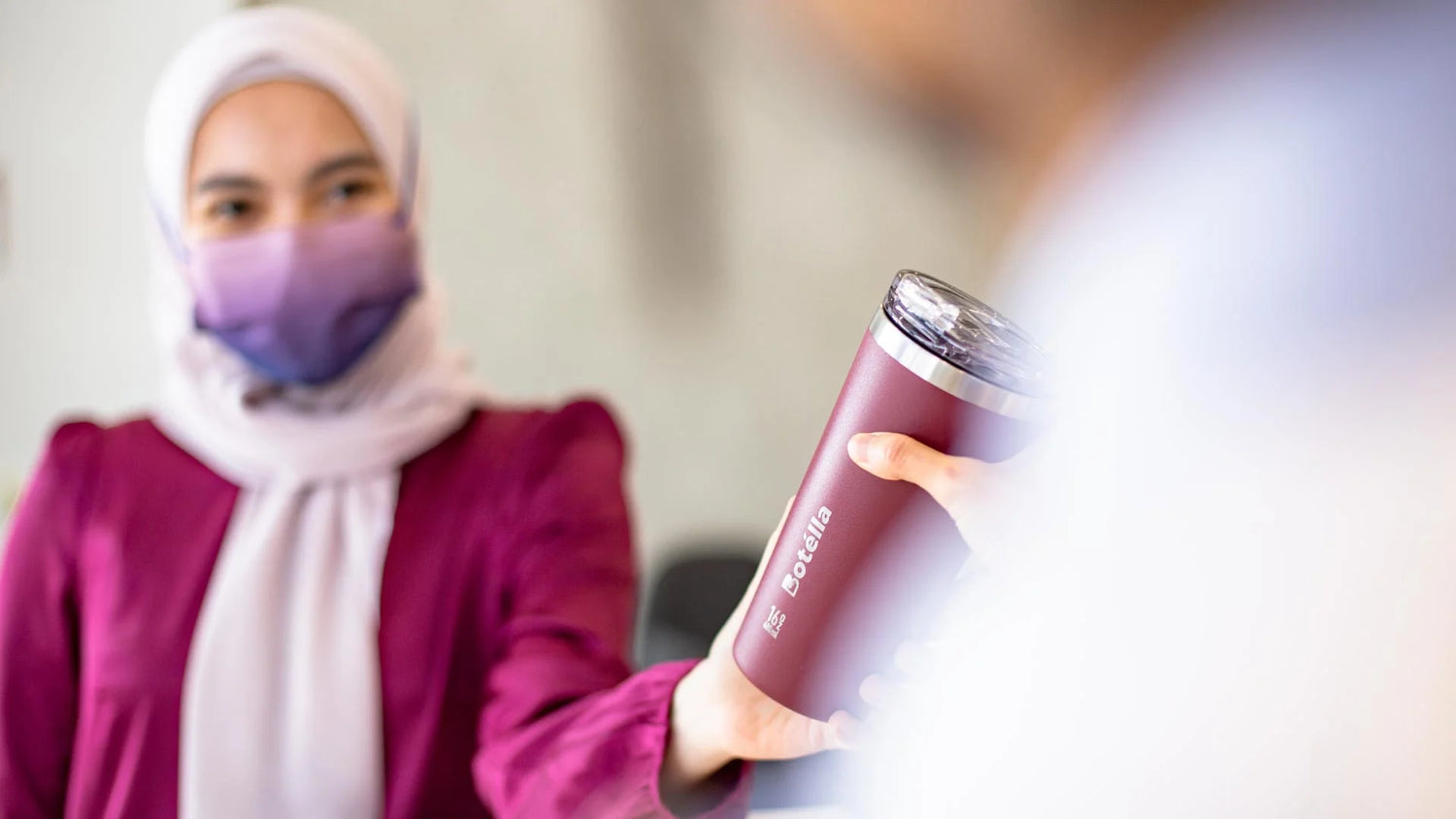 Engrave Your Name
Ever wanted for your bottles to stand out among the rest? Wish that your bottle was truly unique to you? Good news, because Botella is proud to announce that we now offer laser engraving services for your bottles!
Shop Now >>
Details of The Laser Engraving Service
Perfect as a gift for birthdays or anniversaries or special occasions.
Engraving is done locally on ready stock, which means a fast lead time of 1-3 working days before ship out
Engraving services start at RM15
Engraving services are only available for new bottle purchases (We do not engrave on bottles already purchased before)
Engraving is limited to 10 characters/numbers
6 Fonts available: Bebas neue, Alfa Slab, Calistoga, Rottacity, Dancing Script, and Arabic Ramadhan (NEW!)
Position of engraving: Bottom area at the back of the bottle
Engraving service not available for Silver vacuum flask bottles
Bottles that have been engraved are not eligible for return or refund
How To Order an Engraving
Step 1: Select the bottle that you would like to engrave from our catalogue.
Step 2: On the product page that you wish to buy, input the name that you want to engrave in the text box and select the font type that you wish to use.
Step 3: Choose the quantity and add to cart. If you want to engrave different names on separate bottles, repeat steps 1 & 2 for each bottle and add them to cart individually.
Step 4: Proceed to checkout, confirm the details and complete your purchase.
Want to send out personalised gifts in bulk?
If you would like to gift personalised bottles to a bunch of different people, we are also able to do corporate gifting (bulk orders)! Visit our corporate gifting page to learn more and send in your enquiry with us. 
Example of Fonts Available For Engraving
BEBAS NEUE

*Capital letter only for BEBAS NEUE. (Example: ABCD)

Alfa Slab

Calistoga

Rottacity

Dancing Script

Arabic Ramadhan
Frequently Asked Questions
Can I see how the engraving will look like before I make my purchase?

At the moment, no. We are currently working on adding a feature for you to see an example illustration when you input your name. In the meantime, you maybrowse through the font examplesor the customer gallery above to see examples of the different engravings.
Why can't I engrave my name on the silver coloured bottles?

Yes, for most cases. The discount will vary on a case by case basis however, so please enquire with us to get a quotation.
I have placed my order. Can I add-on engraving on my bottles?

Yes, you can. Contact us at012-7232679and inform us that you want to add-on engraving on your order. Provide us with your order number for verification.
Can I request for engraving on the Silver Vacuum Flask?

Silver vacuum flask is not available for engraving. If you already placed an order for the silver vacuum flask and want to add-on engraving, contact us at 012-7232679 and let us know that you want to add-on engraving service on your order.

Additional charge will be added for the upgrade from the silver vacuum flask to other vacuum flask for the engraving.