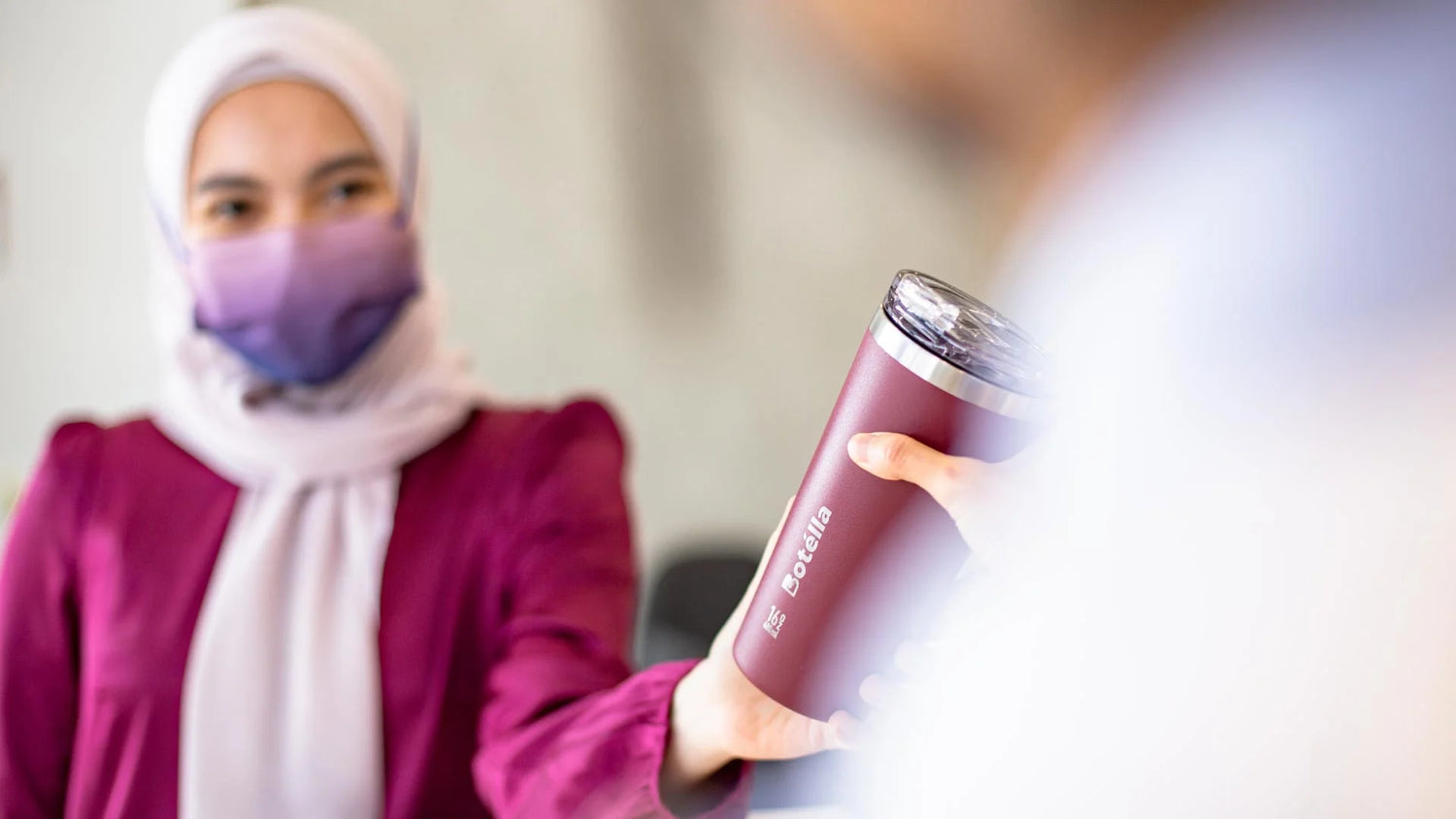 Looking to Add Branding or Customise Your Bottles?
Whether you are looking to send 10 gifts to one location or 100 gifts to multiple different locations, Botella will make it seamless and stress-free for you. Customize your corporate order with us by clicking the link below and let us know what you want for your corporate gift.
GET A QUOTE >>
MOQ start from 1 unit 
No Customization

Minimum order quantity of 1 units.

All ready stock.

Ship out the Next Working Day.

Company logo with laser engrave

Minimum order quantity of 1 units.

3 working days lead time after artwork confirm.

Company logo + Individual name

Minimum order quantity of 10 units.

4 working days lead time after artwork confirm.

Unique design based on your wish

Minimum order quantity of 500 units.

3-month lead time.
Practical Gifts

Quality, sustainable gifts that last.

Short Lead Time

Ready stock in Malaysia and engraved locally.

Seamless Shipping

Ship to multiple addresses or bulk ship to a single location.

Customize Your Gifts

Add your brand logo or customised message.
How It Works
Step 1

Fill up our contact form with the details of your corporate order.

Step 2

A member of our support team will reach out to you within 24 hours of submission for more info.

Step 3

Your business will provide a high resolution vector graphic of the design you want engraved.

Step 4

We will send mockups for approval within 48 hours of receiving your instructions.

Step 5

Once approved and deposit has been received, your order will be immediately processed for engraving.

Step 6

After your order has been processed, it will be shipped out to the specified shipping addresses.
Frequently Asked Questions
Is there a minimum order quantity?

Our minimum order quantity start from 1 bottle.
*extra charge for small order amount
Is there a discount for bulk orders?

Yes, for most cases. The discount will vary on a case by case basis however, so please enquire with us to get a quotation.
How long will it take to receive my order?

This really depends on the order size, design process and other small factors.

To give a rough estimate from our past orders, once the design has been finalized and order has been placed, customers typically receive their products between 1-2 weeks, for orders up to 100 units.

Please plan ahead accordingly based on the estimate given and keep in mind higher volumes of requests during seasonal festivities.
Can I have a look at the design before I order?

Yes! We will provide a digital mockup of how your design will look on our bottles before your order is confirmed.
Is there a return or refund policy?

All customized orders are final, unless product is damaged upon delivery.
What kind of engraving are you using?

We use laser engraving where we etch off the powder coating of the unit, bringing out your logo in shiny silver (stainless steel), in contrast with the colour of the unit. It leaves a permanent mark that will never chip or peel off. It also provides a texture to the logo.
How do I submit my artwork/design for engraving?

We typically ask that the art file be provided in vector format. Some example file types would be EPS, AI or PDF.
I don't have a company logo in AI, EPS or PDF format.

If you do not possess a logo of your company in the recommended formats, we highly recommend that you engage a professional designer to create a design for your company logo prior to placing an order with us.

If you are short on time, and need your engraved bottles ASAP, our internal design team can try to work on a suitable design for you, but with extra charges.

However, we still don't recommend doing so as our design team are not professional logo designers and you might not be satisfied with how your company logo is represented on the final product. Lead time will also increase as a result.

Do respect this process as it protects the interest of both parties. We at Botella believe in providing the best quality products that our customers will be satisfied with at reasonable prices.
Are there any additional fees/hidden charges?

All fees (if any) will be included in the quotation upon request.
What are the shipping costs?

In many cases, shipping is included within the price quoted.

This may vary depending on your specific situation and location, so please provide some initial details of your shipping address when you send in a quotation request.